Clinton, Fox News, and Barry Goldwater
September 24, 2006 9:15 PM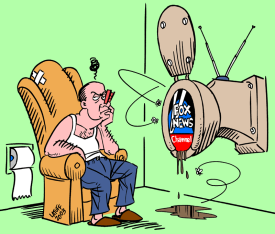 Quick news update - check out the first link at the bottom of this entry for a video of former President Bill Clinton completely owning a Fox News "journalist" who is trying to ambush him with a question about Osama Bin Laden. Clinton was there to discuss his recent achievements with the Clinton Global Initiative (over $7 billion dollars raised to fight Global Warming) and this guy continues the recent attempts by republicans to smear Clinton's record on terrorism and try to lay the blaim for 9/11 on him. Clinton gets pretty pissed at this guy and completely OWNS him. It's great - finally somebody taking it to Fox News - calling them out on their bias.
In other news, there was a recent documentary about Barry Goldwater (directed by his granddaughter) on HBO this weekend. Barry Goldwater was the republican candidate for president in 1964 against LBJ. Goldwater is widely known as the father of modern conservatism and is given credit for starting the conservative movement that inspired and eventually elected Ronald Reagan - and which continues to dominate American politics today. I really enjoyed the documentary and thought they did an execellent job balencing his role in politics with his personality.
The most interesting part was that Goldwater, seen as the being so important to the rise of the conservative movement George W. Bush exploits, actually disagrees with many, many things that modern conservatives stand for. For instance, Goldwater is pro-choice because he didn't believe the government should legislate a woman's body. He believed religion should have no role in politics whatsoever. He believed that homosexuals should be able to serve in the military. Goldwater's conservatism is really just liberterianism! Towards the 90's, after the republican party had been hijacked by the religious right Goldwater said the party had been taken over by "a bunch of kooks."
And this is my main point - modern republicans are not conservatives! They are imperialists - that's for sure. They are corporate elitists. They are religious extremists. But they are not conservatives. And this has only strengthened my opinion that we need more political parties in this nation. In addition to the democrats and republicans we need a socialist party and a libertarian party that actually matter... but I'll save most of that argument for another article. The Goldwater Documentary is called "Mr. Conservative: Goldwater on Goldwater." It's on HBO.